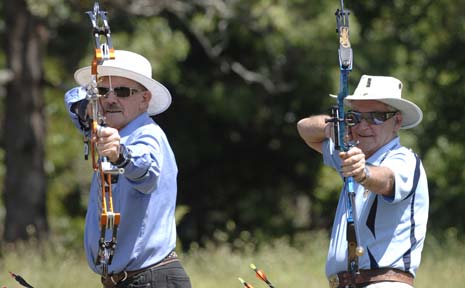 Bogfiminefndinni var að berast þessi skilaboð (neðst í greininni)
Það eru allar líkur á því að það séu allavega 2 Íslendingar á leiðinni á World Master Games, þeir Gunnar Þór Jónsson og Guðmundur Örn Guðjónsson.
Það má hugsa um World Master Games sem Ólymplíuleika aldraðra (semsagt 30 ára og eldri 😉
Upplýsingar um mótið og mótshald er hægt að finn á vefsíðu World Master Games.
Á mótinu er keppt í aldursflokkum í Íþróttagreinunum.
Í bogfimi var keppt á síðasta móti sem var á Ítalíu, sem var fyrir 4 árum síðan, í eftirfarandi flokkum.
30-40 ára
40-50 ára
50-60 ára
70 ára og eldri.
——– Forwarded Message ——–
Celebrating masters sport around the world

"The practice of sport is a human right. Every individual must have the possibility of practicing sport in accordance with his or her needs." Olympic Charter. Fundamental Principles.

During October, the World Masters Games 2017 team had the privilege of attending four masters sports events in four very different parts of the world – France, Australia, United States of America and New Zealand.

There we met tens of thousands of passionate masters competitors of all ages, cultures, races, religions and backgrounds.

It is often said that the camaraderie of masters sport is what keeps participants in the game. That friendships forged in the heat of fierce competition become more important than the act of winning.

We witnessed first hand how the act of coming together, for the love of sport, is a global movement that has the capability to transcend cultural differences and social status.

To all those we met on our travels, welcome to the WMG2017 family. We hope to see you in Auckland, New Zealand, for the World Masters Games 2017 where we can celebrate again the 'sport for all' philosophy of the Olympic Charter.
The biggest Para-Sport programme yet

The WMG2017 Para-Sport programme has been extended to include badminton and triathlon. That brings the total number of Para-Sports to 11, the most yet for a World Masters Games.

Find out more.
New news for rugby, hockey, badminton

There have been a small number of updates to the sports programme. The changes include a new minimum age for rugby and 5-a-side hockey discipline.

Find out more.
| | | |
| --- | --- | --- |
| | | Cory and Noah go head to head |
Girl power on the water

Bonded together by friendship and hard work, the Chinook Performance Racing all-female rowing squad are winning gold all over the world. We caught up with them at the 2015 World Rowing Masters Regatta in Belguim.

Meet the crew.
| | | |
| --- | --- | --- |
| | | The great rides of New Zealand |