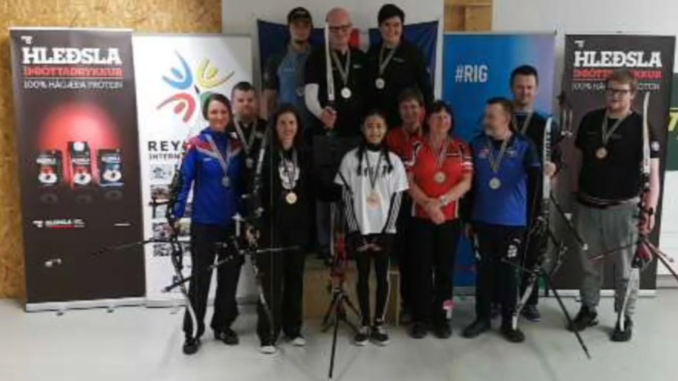 The Reykjavik International Games 2018 finished a few hours ago with a very exciting batch of gold medal finals.

Most of the competitors are now at the closing party eating some good food and having a blast.
The gold medal finals were live streamed and can be found below. This is our first attempt at live streaming the finals and all we had were 2 cell phones and a laptop so the quality is not great this time around. But we will try to improve it drastically at the Iceland Aurora Open 23-25 of March were more international competitors will compete.
News report from the Icelandic tv channel RUV about RIG http://www.ruv.is/frett/lokadagur-reykjavikurleikanna-2018
RIG awards a trophy to the best performing man and women of the tournament. This edition Carl Johan Bengtsson from Sweden and Helga Kolbrun Magnusdottir from Iceland were selected to receive a trophy for archery at the closing ceremony.
There were a few of shoot offs during the medal matches.
1. Compound Men gold medal match Jogvan and Carl ended up tied with 140 points both and during the shoot off they both shot a 10! but Carl's was closer to the center so he took the crown.
2. Recurve Women gold medal match Astrid and Kelea tied the match a 5 points all and during the shoot off they also both shot 10's"!!! but Kelea's 10 was closer so she took the Gold
3. Recurve Women bronze medal match Armelle and Jastrid were tied at 5-5 and during the shoot off they both shot 9's. Aramelle was closer to the center so she took the bronze home.
In the compound women's gold match Helga easily defeated Sherry 146-143 since Helga shot a new national record in that match.
In the compound women's bronze medal match a surprise medalist to most but she is well known to us Eowyn (14 years old this year!! still a cub) took the bronze with a confident win against Ewa 138-127
In the recurve men's gold match Sigurjon didn't give an inch during the march and took all 6 points confidently in 3 rounds against Eggaba from the Fareo's
In the recurve men's bronze medal match the 4th and 5th in the qualification beat out he 3rd and 4th in the match rounds and met during the medal match. Ragnar and Ingolfur, the match ended with a 7-3 victory for Ragnar that took the bronze.  (Side note Ingolfur did a great job getting to the bronze medal match since he was also the judge for all the tournament parts that he was not competing in himself and still managed to get to the bronze medal match, impressive.)
In the compound men's medal match Alfred beat Arnar 138-136. Arnar was the favorite to win before the match since Alfred has only been shooting a compound bow for 4 days!!!! He borrowed a compound bow before the competition and wanted to compete for fun (as you should) and got some basic instructions on how to shoot. We see that all the recurve form training has paid of since he managed to take the bronze at this tournament, just not with the bow type Alfred thought he would win with
Medalists per event
Recurve men
Rank

Name

Country

Qualification

1/8

Quarter Finals

Semi Finals

Final

1
SIGURÐSSON Sigurjón Atli
ISL
Iceland
579-1
-Bye-
6
7
6
2
ANDREASEN Jogvan Magnus
FO
Faroe Islands
543-2
-Bye-
7
6
0
3
HAFSTEINSSON Ragnar Thor
ISL
Iceland
493-5
-Bye-
6
3
7
Recurve Women
Rank

Name

Country

Qualification

Quarter Finals

Semi Finals

Final

1
QUINN Kelea
GER
Germany
515-2
-Bye-
7
6T.10*
2
DAXBÖCK Astrid
ISL
Iceland
522-1
-Bye-
6
5T.10
3
DECAULNE Armelle
FR
France
512-3
7
1
6T.9*
Compound Men
Rank

Name

Country

Qualification

Quarter Finals

Semi Finals

Final

1
BENGTSSON Carl Johan
SWE
Sweden
577-2
145
142
140T.10*
2
NICLASEN Jógvan
FO
Faroe Islands
579-1
144
139
140T.10
3
BIRGISSON Alfreð
ISL
Iceland
553-4
140
136
138
Compound Women
Rank

Name

Country

Qualification

Quarter Finals

Semi Finals

Final

1
MAGNÚSDÓTTIR Helga Kolbrún
ISL
Iceland
576-2
140
143
146
2
GALE Sherry
AU
Australia
578-1
-Bye-
140
143
3
MAMALIAS Eowyn Marie A.
ISL
Iceland
550-3
142
131
138
List of national records that were broken during RIG 2018
Eowyn Marie A. Mamalias broke a massive 4 records in 2 age categories during RIG 2018: Cadet Qualification 550 points, and Cadet match round 142 points. And since both of those scores are higher than the Junior records she broke both of those as well totaling 4 records. And she was only 3 points shy of getting the Senior match round record.
Sigurjon Atli Sigurdsson had a great day beating the senior recurve men qualification record 579 points
Helga Kolbrun Magnusdottir broke 2 records: Senior qualification 576 point and the senior match record 146 points.
Runar Thor Gunnarsson broke the compound masters match record with 139 points and just came 2 points short of the compound masters qualification record.
Noi Barkarson broke 2, the cadet and junior match round record with 133 points.
Sigridur Sigurdardottir tied the recurve master womens record at 501 points
The Icelandic national records registry can be found here
Detailed results from the tournament can be found on ianseo.net
We would like to thank the tournament staff.
Olafur Gislason, Ingolfur Rafn Jonsson, Sveinn Stefansson, Snorri Hauksson and Astrid Daxbock.
And all other that lent a helping hand when needed.